<!very light red>
"Hard SF, with good science and well-developed characters."
--San Diego Union-Tribune
"Landis writes evocatively and with authority."
--Kirkus Reviews
"Geoffrey Landis' first novel is hard SF at its best."
--SF Chronicle
---
Mars Crossing
What the reviewers are saying:
---
from scifi.com

"Geoffrey A. Landis' Mars Crossing is hard SF at its best, capturing the beauty of the Martian landscape and providing a glorious backdrop for the humans' struggle. As the crew wears out its exploration vehicles in the attempt to drive north, the frailty of the technology upon which they depend for survival is chillingly clear. Particular scenes--the team rappelling down a Grand Canyon-sized rift, for example--give the journey a grandeur which is truly awe-inspiring.

"Landis takes care to ensure that the human element is not overshadowed by technical considerations. "

--A.M. Dellamonica
read the full review on the scifi.com site
---
from SF Chronicle February 2001:

"Geoffrey Landis' first novel is hard SF at its best.

"The first two missions to Mars failed to return, and now a third has arrived. A drone ship was landed in advance, but an unexpected malfunction has rendered it unusable. The only chance the five astronauts have is to trek across the face of Mars to one of the earlier vehicles, and hope that it can be made usable so that they can escape. There are a few additional problems, however. The ship in question can only accomodate two of the five, and one of the astronauts is not what he appears to be. The novel features glorious descriptions of the surface of Mars as well as the growing tensions among the characters. The novel has all the realism and accuracy you'd expect from the author."

-- Don D'Ammassa
---
from the Lansing State Journal, July 8, 2001

'Mars Crossing' is a rollicking sci-fi tale.

"If you're really trying to get away this summer, grab a copy of the first novel by Geoffrey A. Landis and go to Mars, where action and adventure await intrepid explorers.

"'Mars Crossing' by NASA scientist and science fiction author Landis is good old-fashioned fiction set off-planet in the near future, turbo-charged with strong characters and dusty, breath-taking scenery.

"...While there are no weird insects or crazed computers (as in the cinematic 'Red Planet') there are still numerous obstacles that challenge the crew and slowly reduce their number.

"...Landis uses exceptionally short chapters and frequent flashback scenes to create a fast-paced thriller. Secrets of the crew members are slowly exposed, offering deft insights into their sometimes unusual behavior on the planet's perilous surface.

"While this is the first novel for the highly acclaimed science fiction writer, the 1985 Clarion graduate has won both the Nebula and Hugo awqrds for his insightful short stories.

"Although Landis has been involved with the Mars Pathfinder mission, this is not a merciless 'hard science' novel where you have to be a rocket scientist to comprehend what's going on. Just pick up the book and go with the flow; it's easy to be transported to another planet, where all your problems seem minimal by comparison."

-- Ray Walsh
---
from Locus:

New and notable:

"Already a Hugo and Nebula Award winner for his short fiction, Landis turns out a predictably powerful first novel with this hard SF adventure of stranded astronauts on Mars making a desperate trek across the planet in hopes of finding the return module from a previous unsuccessful mission."

--capsule review, January 2001
link to review
---
From the San Diego Union-Tribune Dec 10, 2000:

"If you have read and enjoyed any of the great expedition stories of the last couple of hundred years, those tales of polar adventures, Amazon explorations and the like, you'll almost certainly be enraptured with "Mars Crossing." ...This is hard SF, with good science and well-developed characters."

--Jim Hopper
---
from the Cleveland Plain Dealer, March 25, 2001:

"Landis knows a lot about Mars and the engineering challenges a visit to that planet would entail. He talks knowingly of Martian geology and weather, and builds his plot around the kinds of problems Martian conditions will create for earthly organisms and equipment.

"Indeed, the most intriguing character in this fine first novel is the planet itself. Landis' Mars is rugged and dangerous, but the planet's harshness is redeemed by its austere beauty and a lot of wonderful secrets. Mars Crossing will convince more than a few skeptics that the Red Planet is a place humans should surely explore."

-- John R. Alden
read the full review: cleveland.com
---
from SciFi Dimension April 2001:

"As the explorers trek across the Martian landscape, Landis treats us to a ripping good survival story. His science is solid, always a plus for hard SF; his characters are believable; and he doesn't let the details get in the way of a great plot and a series of nail-biting cliff-hangers (literally and metaphorically). His short chapters (some scarcely a page long) are interspersed with background stories of the Martian explorers which are nearly as interesting as the main narrative.

"All in all, I highly recommend this novel."

--John C. Snider
read the full review at: scifidimensions.com
---
from barnesandnoble.com:

"The author takes great care that the human element isn't lost among all the science minutiae. Characterization of the six mission members is a top priority to Landis, as they interact together with high degree of passion: Jealousy, anger, and even love all play an intrinsic part in this adventure tale. The novel is comprised of extremely short chapters, moving from one protagonist to another so that the reader gets a wide spectrum of emotional context. Landis gives us a genuinely suspenseful, driven narrative that speeds along as circumstances go from bad to worse and proceed to an electrifying climax....

"In Mars Crossing, Landis proves he's a versatile writer with an amazing range of science fiction topics, and those who read his debut novel will undoubtedly be eager for more.

--Tom Piccirilli
read the full review on the Barnesandnoble.com site
---
From SF Revu, December 2000

"Mars Crossing is solid science fiction and a great tale of endurance on the frozen wastes of the red planet. The cross- age, gender, class, race and nationality of the crew provides us with a multitude of perspectives and the interpersonal tension needed to make the story compelling."

--Ernest Lilley
Read the full review at sfrevu.com.
---
from Kirkus Reviews, Nov 1 2000

"When focused on the planet, the engineering, and the epic trek, Landis writes evocatively and with authority. Mars itself is frigid, indifferent, and spellbindingly beautiful. "
---
from Explorations (October/November 2000, page 20):

"If Geoffrey A. Landis hasn't heard thunderous applause in his dreams yet, he will very soon. After finishing his debut novel, I actually stood up and applauded. Once this book is released to the masses, I have a feeling a lot more people will be applauding, too.

"The story centers around mankind's third expedition to Mars. The first two made it to Mars but never returned. Now six people with very different backgrounds are going to try to do what has never been done before. But things start going wrong almost immediately after touchdown, and soon people start dying. As a last resort, the remaining crew must try to make it halfway around the planet to a previous expeditions's spaceship.

"After finishing Landis's debut novel, I was reminded of when I read my very first Arthur C. Clarke novel. I got that same feeling reading Mars Crossing. If this book is any indication, Geoffrey Landis has a very long career ahead of him writing science fiction."

--P.G.A.
---
From Library Journal

"After two expeditions to Mars end in disaster, a third mission sets forth determined to become the first group to return from the Red Planet. Almost immediately after it lands, however, disaster strikes, forcing the small group of astronauts to undertake a trek across the harsh surface of the unforgiving planet. Landis's first novel (his short stories have won Nebula and Hugo awards) captures the tension of the best survival fiction without neglecting the personalities of his characters. A timely addition to most sf collections."
---
from Analog, January 2001:

"There have been so many Mars novels in the last year or so that it's hard to imagine how anyone could come up with something new. On the other hand, it is practically traditional to use familiar patterns in many genres and we should hardly hold it against Geoffrey A. Landis that he has married the Zubrin-style bootstrap Mars expedition with the desperate, against-all-odds trek across a hostile wilderness toward a sole hope of survival. In Mars Crossing he's done an excellent job in a classic vein, and the result is a ripping good yarn.

"... It's in the nature of the improbable literary trek that someone survive. There must also be a villain, and justice must somehow triumph. So it is here as well, but I say no more except to recommend the book to your fond attentions."

--Tom Easton
---
from Fantastica Daily

"What tends to take center stage is the care given to characterizations.

"...For what it is, I recommend Mars Crossing. It's a comfy ride, with occasional bursts of excitement. What works best are its characterizations and reality-based scientific elements. This novel does manage to ring true. "

--Mervius
Read the full review
---
from Neverworlds

"A trek across Red Planet, a vivid and beautiful world as seen through Landis' eyes, full of marvels and dangers. As the stranded astronauts work their painful way across a landscape dominated by rock and dust, they're confronted by a suspicious death, failing equipment, awesome geography, and the question of who gets to go home.

"...Landis knows people, and Mars Crossing is such a terrific read because it's about five very interesting people in a lot of trouble. It's prime-cut hard sf: meaty, tasty and lean."

--Sullydog
Read the Neverworlds full review (also on SFReader.com)
---
"Eagerly awaited by readers of the genre. As a particularly gifted representative of the Hard-SF school of writing, Landis had demonstrated, through his stories, a talent for complex characters, lucid prose and a fertile imagination. Mars Crossing arrived on shelves in time for Christmas and the new millennium, hopefully satisfying a legion of eager fans."

Review on Christian Sauve's page of book reviews
---
from amazon.com:

"Grand story of adventure combined with hard science.

"There is a category of Science Fiction, that we like to call "hard" science fiction, frequented by the likes of Steven Baxter, Greg Egan, and David Brin. Then there is this stunning first novel by an author that I would have to call "ultra-hard" or "Real world" science fiction. That is because Geoffrey A. Landis really works on Mars technology! His "real" job is a scientist at NASA John Glenn Research Center, working on Mars technology. So if there ever was anyone qualified to write a novel on Mars, he is. We have waited for years for his first novel, since all his short story quality has been so consistently excellent. He has already won Hugo and Nebula awards for his short stories.

"In this first novel, the scientific explanation is full and authentic. But the characters and their development is also splendid. This should be the Hugo award winner for the best Science Fiction book of 2000."

--Sam Gentile
---
More Reviews on the internet
---
---
Mars Crossing is available at your local bookstore, or available over the internet from Amazon.com
---
---
Links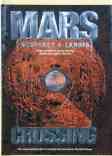 ---
---
Page updated April 2001