<!very light blue>
"An unforgettable journey."
Mars Crossing
Quotes from Charles Sheffield, Gregory Benford, Maureen McHugh, Michael Bishop, and Stephen Baxter
---
Charles Sheffield about Mars Crossing:

"I loved the book.

"I have waited for years for Geoff Landis to write a novel, because his short fiction has been so consistently excellent. Now he has done so, and MARS CROSSING is everything I hoped it would be. The characters are splendid, the scientific description is full and authentic, and the story has the epic quality of the greatest real-world adventures. It made me think of Lansing's "Endurance" and Cherry-Garrard's "The Worst Journey in the World," with the added wonders of a fully-realized alien world.

"This is science fiction at its best and as it ought to be, with "science" and "fiction" carrying equal weight."

--Charles Sheffield
---
Gregory Benford about Mars Crossing:

"I really liked Mars Crossing, especially the breakneck pace-- kept me reading right along. Good twists, too. More!"

--Gregory Benford
January 25, 2001
---
Michael Bishop about Mars Crossing:

"An acknowledged master of short science fiction, Geoffrey Landis proves in Mars Crossing that he has the right stuff for the long haul -- indeed, the spectacular, otherwordly anabasis -- and does so with credible technological savvy and compelling human insight. Sign on with Landis's astronauts for an unforgettable journey."

--Michael Bishop
August 18, 2000
---
Maureen McHugh about Mars Crossing:

"This Mars has the authentic feel of experience, as if written by someone who has actually been there. Geoff Landis not only knows Mars, he knows the science of space travel, and it shows in a myriad of wondrous details from the problem of fungus on a space mission to the way an airplane works on Mars."

--Maureen McHugh
---
Stephen Baxter about Mars Crossing:

"High quality hard SF written with the authenticity of a NASA insider, reminiscent of Clarke's classic interplanetary romances: A Fall of Moondust for the new century. The Mars crossing itself is an epic voyage, reminiscent of Scott and Shackleton.

"Landis has given us a legend of our own near future."

--Stephen Baxter
---
Mars Crossing is available now from Tor Books. Order now from Powell's, or ask your local bookseller.
---
---
Charles Sheffield is the chief scientist of Earth Satellite Corporation, and an award-winning science fiction author. Ever since his book The Web Between the Worlds first introduced the concept of a space elevator to the science fiction world, Sheffield has been well known for the breathtaking scientific speculation of his fiction. His most recent book is the the non-fiction Borderlands of Science.

Gregory Benford's Nebula award winning Timescape is considered to be a classic of hard science fiction. His recent books include Deep Time, Cosm, and Eater.

Author Michael Bishop has won the Nebula award twice, for his book No Enemy but Time, and for the novelette "The Quickening". He is the author of sixteen novels, six short-story collections, and has edited five science-fiction anthologies.

Maureen McHugh won the Tiptree and the Lambda awards for her first novel, China Mountain Zhang, and the Hugo award for her short story "The Lincoln Train". Her most recent novel is Mission Child.

Stephen Baxter co-wrote Light of Other Days with Arthur C. Clarke. Some of the more recent of his hard-science fiction novels include Manifold: Time and the recently released Manifold: Space.
---
---
Links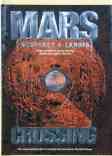 ---
---
Page updated November 2000