<! turquoise>
Human-Powered Aircraft
In the 1980s I was a team member building and flying some of the first successul Human-Powered Aircraft, the MIT Chrysalis, Monarch, and Daedalus airplanes.
This picture of the "Monarch" human-powered airplane and crew was in the Boston Globe October 21, 1984. That's me standing in the back row, squinting into the sun, second from the right.
The caption was:
Winning Team
The human-powered aircraft team at the Massachusetts Institute of Technology has won the Royal Aeronautical Society's 20,000-pound Kremer World Speed Competition Prize for making the first flight around a 1500-meter course in under three minutes. The winners shown with their plane are (front row, left to right) Tidar Shalon and Juan Cruz, (middle row) John Langford, Frank Scarabino, Mark Drela and Barbara Langford, (back row) Stephen Finberg, Scott Clifton, Rick Sheppe, Sean Tavares, Geoffrey Landis and James Wilkerson. Also sharing the prize but not shown is John Flynn. The flight was made on May 11 and notification of the prize was received recently.
Photo by Stephen Finberg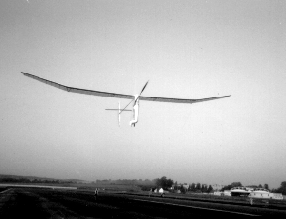 And here's Monarch in flight at Hanscom Field.

Here's a shot of our first human-powered aircraft, the MIT Chrysalis, in a sunrise flight.
I was also part of the MIT "Daedalus" team at the beginning of the project, although I left the project when I moved to Ohio to work at NASA, so I was not part of the team that flew the Daedalus aircraft from Crete to Santorini.
---
<! dark red>
---
---
Page by Geoffrey A. Landis, 1996, 1997