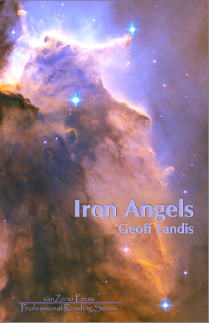 Iron Angels
by Geoff Landis
from the reviews:
"Cats, the cosmos, and cantos are the elements connected in this wonderful collection of poems by Geoff Landis. Romance and science are interwoven in many of the pieces in an effortless and engaging manner, along with stripes and flecks of pathos, humor, physics, space and astronomy. The poems strike a chord of the familiar in the reader, even a reader who may not be expert in matters of science. It is the connection to humanity - feelings, stories, and images that make the poems so appealing...."


[Geoff Landis] "brings to bear his formidable scientific knowledge and poetic skills in his thoroughly entertaining and accessible debut poetry collection

Iron Angels.

The book shines through with Landis's uncanny wit, acute intelligence, and passion for the stars.... Within its pages you will find lavishly penned works as well as eloquently minimalistic ones that employ a wide array of poetic forms. All have the power to invoke a sense of awe and contemplation as they parade the mind's eye with fantastic visions of galactic majesty."
"Throughout this collection you will discover all variety of effectively emotive poems that are at times profound, insightful, melancholy, poignant, and on the whole deeply human. Additionally, you'll find several works that refuse to take themselves at all seriously-- including a few of unabashed silliness, such as the charmingly whimsical rhyming verse 'If Angels Ate Apples,' and the lyrical spoof of a very familiar Janis Joplin ditty entitled 'SSTO.'"
"Yet there is more to

Iron Angels

than science fiction, astronomy, and cats. All the poems here range the entire spectrum of human emotions and several are quite down-to-earth... On the whole,

Iron Angels

is a fresh and fun collection of mind-expanding poems that are clear and comfortable to read-- a true dazzler that is well worth picking up."
From the review in
Star*Line
by Anthony Bernstein
Read the whole review
"A great blending of SF poem and poem of science ...it's a collection worth having. Buy it.
"

"Landis' background, intelligence and sense of humor are very evident in this collection. And while much of his poetry is profound, it always remains both accessible and engaging. These are poems for everyone, not just fans of science and science fiction.
"... All in all, an excellent collection and valuable addition to anyone's bookshelf.
"
From the review in
ClevelandPoetics
by J.E. Stanley
Read the whole review
"This collection certainly shows his range. I admire poets who are willing to be playful sometimes, silly sometimes, thoughtful sometimes, and deadly serious sometimes. All those modes are on display.
"
---
List price $19.95
Available at the autho's price of $15.00 (includes U.S. shipping)
Click here to order via Paypal: (Or e-mail geoffrey-dot-landis_AT_sff_dot_net to order by check.)
---
Poetry by Geoff Landis
My collection Iron Angels is out from VanZeno press. The book collects 53 of my poems, both science-fiction and mainstream, rhymed and unrhymed, sonnets through haiku. Check out the Table of contents.
What people are saying:
"Some poems I read twice (and out loud!)"
--Jane Yolen

"As brilliantly as Sirius shines in the evening sky, Landis' poems are among the brightest stars of speculative poetry. Each poem simply launches off its page into new realms of witty insight."
"Rich in wit, imagination, craft and visions, the poems in Iron Angels are sure to resonate with both readers of poetry and those of science fiction. They certainly did for this reader. A remarkable collection with more than a few memorable entries."
--Bruce Boston,
click here to see a wraparound pdf of front and back covers
---
---
---
---
Page by Geoffrey A. Landis, 2009
"Ten Ways to Tell If Your Cat is a Space Alien" first appeared in
Isaac Asimov's Science Fiction Magazine
April 2001